Microneedling
What is Microneedling treatment?
A Microneedling treatment is an advanced non-surgical cosmetic procedure used to reduce wrinkles, smoker's lines, large pores, Acne Scars, as well as rejuvenate and tighten the skin.
Microneedling can also be used for other conditions such as improving stretch marks, regulating skin pigmentation, and treating sun damage.
The Microneedling treatment uses multiple needles to vertically pierce the skin to create numerous micro wounds stimulating the body's natural healing process, similar to the effect of a fractional laser treatment.
Benefits of a Microneedling treatment
A Microneedling treatment can be used safely on all skin types including darker skin and, any part of the body. The Microneedling needles work in a vertical motion which, reduces discomfort and the patients' healing time in comparison to a Dermal Roller procedure.
Microneedling is a low cost, effective and quick procedure that enhancing the overall look of the skin with minimum downtime.
Which areas can Microneedling treat?
Microneedling can be used to treat any part of the body. It is very effective in treating sensitive areas such as the face, neck, and chest.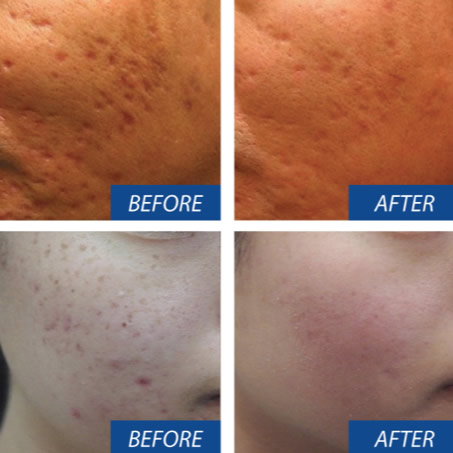 A Microneedling treatment uses a sterile pen-like device, to vertically penetrate the skin with micro needles that are 0.25 mm to 2.5 mm in length. These micro needles penetrate both the dermis and epidermis layers of the skin to create micro wounds and pinpoint bleeding at specific depths. This procedure stimulates the natural healing process of the body, leading to the growth of collagen and elastin which restores the appearance of healthy skin.
Prior to the Microneedling skin needling procedure, a numbing cream or cooler may be applied at the treatment area to reduce any discomfort. The sterilized one-time use pen will then be placed over the treatment area to vertically penetrate the skin.
How many Microneedling treatments are recommended?
The number of recommended treatments depends upon the type of treatment needed.
Facial rejuvenation: 4-6 treatments at intervals of four weeks;
Acne Scarring: 6-10 treatments at intervals of six weeks; and
Stretch Marks: At least 10 treatments at intervals of six weeks.