Advanced Dermatology & Cosmetic Care
Welcome to the office of Advanced Dermatology & Cosmetic Care, a leading Santa Clarita dermatology practice located in Valencia, CA. We understand the importance of good skin care and are committed to providing you with high-quality care in a pleasant and professional atmosphere.
Serving Santa Clarita, Valencia, Porter Ranch, Bakersfield, Granada Hills, Sylmar, Mission Hills, Ventura, Oxnard, Camarillo and surrounding areas, Dr. Raskin using the latest techniques and advances in the field of dermatology.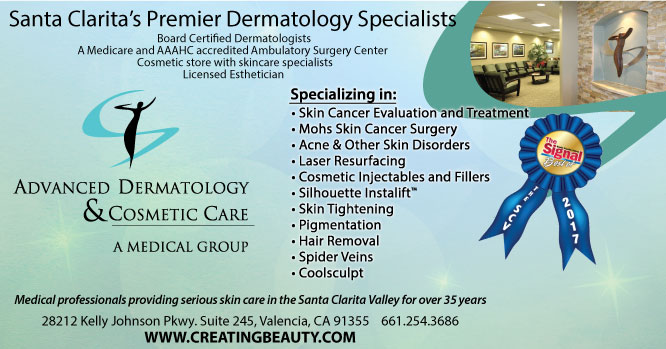 Featured Videos
Advanced Dermatology and Cosmetic Care in Santa Clarita is no stranger to the media.
Below are some of our featured videos:
Patient Testimonials
The staff was the best. Everyone was helpful, friendly, and knowledgeable. The nurses and the physicians were accommodating, caring, and try hard to make you feel as comfortable as possible.I really enjoy coming here.
-Alexis E.
My past and current experiences with your dermatologists have been great. The doctors and assistants are friendly and knowledgeable. The waiting time is always reasonable, too. We especially appreciated Kim's reminder about sunscreens!
-Nadine K.
I was treated with kindness and respect. The entire staff made my first visit very pleasant and I thank everyone for that. Kim was very courteous and helpful she is great! Thank you!
-Ione J.
Staff was friendly and helpful. I left satisfied with my experience and the result of my treatment. I was well taken care of. The staff and doctor are polite. They are professional and caring. The office is very nice and comfortable.
-Jeannie C.
Dr. A and Kimberly were awesome-very comforting and re-assuring. Great bedside manner and sense of humor, made my procedure easy and fun. Thank you.
-Hollie M.
View all Testimonials