Clear + Brilliant Laser
Revitalize and Rejuvenate Your Skin with our Clear + Brilliant Laser
Treats:
This laser helps to improve multiple skin conditions such as superficial sun damage, brown spots, fine lines, poor texture, radiance, and tone on the face, neck, chest and hands. This unique laser is great for that first time user with little to no down time. It's been often called the "Baby Fraxel".
How It Works:
Clear + Brilliant laser is attracted to water in our skin, unlike the typical lasers that focus on the color of your skin. In return, this laser is great for all skin types. If you have darker skin color, this laser treatment will work great for you as well. The Clear + Brilliant laser creates tiny fractionated columns of heat in the epi-dermis (out layer of skin) while leaving surrounding areas in tact so recovery is very minimal. The damaged skin is replaced with healthier skin and as a result, you have new collagen production with a more youthful glow.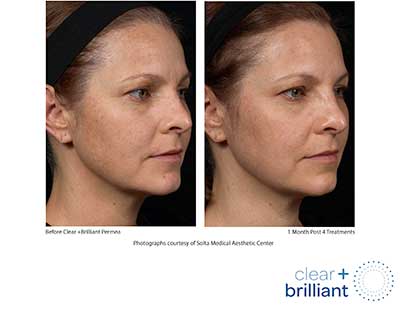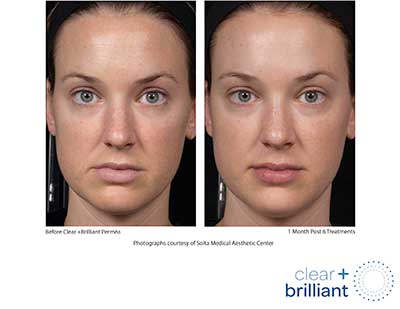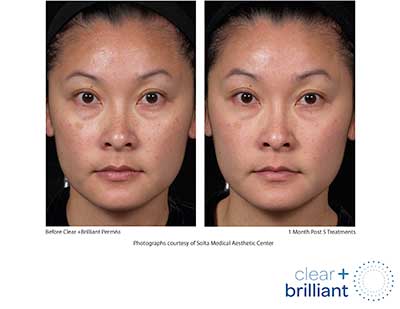 There are two hand pieces to choose from. The Perméa handpiece is for brown pigment and gives a radiance glow. The original handpiece is for collagen building, pores and texture.
Am I a candidate?
The Clear + Brilliant laser works great for all skin types and unlike many lasers, it can be done on most darker skin tones.
How many treatments do I need?
Results can be seen after one treatment, however for optimal results a series of 4 treatments may be recommended to achieve desired results. This treatment can be performed every 2 to 4 weeks or as directed by a provider.
What are the side effects?
Minimal – Patients can expect to be red the first 24 hours with possible minimal swelling. Area treated will have a sand paper type of feel for about 5 days. Make-up can be applied after 24 hours. The result is a healthy glow and a visible reduction in aging signs after a series of treatments.