Silhouette InstaLift
What is InstaLift?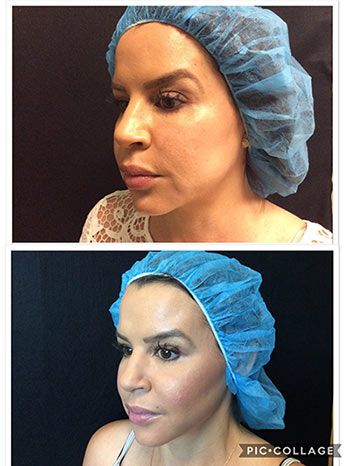 Silhouette InstaLift is a minimally-invasive simple procedure to re-contour your face, lifting the deeper layers of skin on lower face & neck. It helps to address volume loss as well as skin laxity through an instant lift of the skin, and long-term collagen production. Specially formulated dissolvable sutures with bidirectional cones are used to mechanically fix deep tissue until collagen production ensures tissue fixation biologically. The entire procedure takes only 45 minutes and requires no incisions or anesthesia. Instead, lidocaine is injected locally to ensure patient comfort during the treatment.
While cosmetic dermatologists have performed thread lifts previously, InstaLift provides a vast improvement thanks to the use of dissolvable sutures and cones made up of a synthetic material called polylactic acid, which is also used in Sculptra. This material slowly disintegrates as the body creates scar tissue, which provides a natural lift for the face. Through the use of bidirectional cones, the lifting caused by InstaLift can be more finely controlled. Combined, these advantages result in the long-lasting effects.
The Silhouette InstaLift provides non-surgical skin tightening and lift in a manner that is effective and safe. It has been used in Europe for years, and is now finally FDA approved for the U.S. Be among the very first in the nation to try this revolutionary treatment at Advanced Dermatology & Cosmetic Care.
What can Instalift do for me?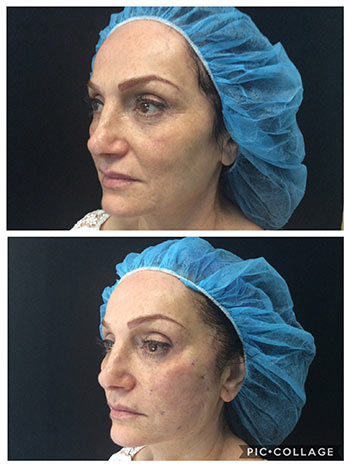 Silhouette InstaLift's double action of lift and regeneration helps smooth the skin and contour the face, allowing you to look your absolute best. First, the tissue is lifted from within by the sutures, providing instant lift and contour. Next, the sutures stimulate collagen production, allowing for a regenerative effect that means the skin will continue to look better, firmer, plumper, and more youthful over time. The Silhouette InstaLift is the lift that keeps on working long past the initial treatment.
During a traditional surgical facelift, volume loss is not addressed. A facelift ONLY tightens the skin, thus reducing jowls and drooping but not addressing underlying volume loss. Before InstaLift, at least two procedures would have been necessary to address both of these concerns, whether a surgical facelift plus fillers or a non-surgical skin tightening procedure plus fillers. Now, however, skin tightening and volume restoration can both be addressed in the same quick procedure with minimal downtime.
Another major benefit of the Silhouette InstaLift is the lack of any major downtime. Following the procedure, you may be slightly swollen, red, or bruised. These side effects are common and should resolve on their own within a few days, or up to a few weeks in rare cases. Bruising can always occur following trauma to the skin, but there are steps you can take to help minimize the risk, including:
Patients taking blood thinning medications such as aspirin should confirm with their primary care physicians whether they should halt medication before the procedure
Stop taking blood thinning supplements such as fish oil for at least two weeks beforehand
Visit a skilled, experienced, board-certified dermatologist
Avoid alcohol for a week or so before the procedure
Use arnica supplements before and after the procedure
Am I a Candidate?
The best Silhouette InstaLift candidates are in good physical condition and have normal skin thickness and early facial and jowl laxity. If you had a prior surgical facelift and are currently experiencing sagging skin, you may be an ideal candidate. This procedure is also an excellent option for younger women and men who wish to delay the physical changes they are noticing to combat early signs of aging. Anyone who would like to achieve subtle rejuvenation results in the cheek, jowls, or neck is the ideal candidate for InstaLift. As with all procedures, patient education and gauging expectations is crucial in a successful procedure.
In general, Silhouette InstaLift patients have the following characteristics:
Early Sagging skin of the mid-face, jawline, and neck
Loss of facial volume
A desire to avoid invasive surgery, either due to medical reasons or personal preference
A wish to avoid general anesthesia
Realistic expectations about what this procedure can accomplish
Quick Facts
This treatment addresses BOTH volume loss & skin tightening
This treatment has minimal downtime
No anesthetic is needed
The results get better with time with increased collagen production
This treatment has been used for Women & Men
Silhouette InstaLift is an in-office procedure