HydraFacial
What is HydraFacial?
HydraFacial is an invigorating facial treatment provided by our licensed esthetician. Treatments can be tailored to meet the needs of your specific skin conditions. The HydraFacial is a 4-in-1 vortex technology that deep cleans the pores by exfoliating dead skin cells, extraction of impurities, and infuses serums containing antioxidants, peptides, and hyaluronic acid into the skin. Red or blue light treatments can be added to your treatment for anti-aging or acne prone skin types.
Is HydraFacial right for me?
HydraFacial addresses all skincare needs and types, so everyone is a good candidate. Even the most sensitive skin easily tolerates the HydraFacial treatment. Your esthetician may choose specific serums and/or customize the treatment for your unique skin conditions and needs which may include:
Fine lines & Wrinkles
Elasticity & Firmness
Even Tone & Vibrancy
Skin Texture
Brown Spots
Oily & Congested Skin
Enlarged Pores
Dry Skin
How is the treatment performed?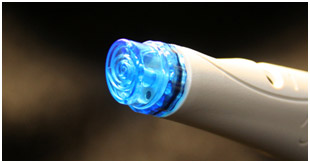 During your initial consultation your aesthetician will assess your skincare needs and determine which serums would best compliment your treatment. For instance, if you wish to brighten your skin tone our aesthetician may recommend a Britenol Boost which is specifically formulated with Vitamin C and Alpha-Arbutin to target dark spots and sun damage. Once your customized treatment plan is decided your relaxing HydraFacial treatment can begin.
The patented tip used during treatment creates a vortex effect to easily dislodge and remove impurities while simultaneously improving delivery of predetermined treatment serum. You will also receive an exfoliation at the time the serums are in contact with the skin. This procedure will leave the skin radiantly clean, refined, moist and polished. The process is quick, painless and will have you back to your normal routine without any downtime.
How many treatments do I need?
Many people report seeing visible skin improvement and an improved skin tone after just one treatment. The results may last 5 to 7 days or even longer. A series of 6 treatments 1 week apart are recommended for improving the appearance of fine lines, wrinkles, hyperpigmentation, acne or oily skin. After your first series of treatments, you may want to maintain your results with a HydraFacial treatment every 4 weeks.
What can I do at home to maintain my results?
Our Creating Beauty skin care professionals offer take home skin care regimens. These customized regimens are for your use at home as part of your daily skin care regimen. We have a wide array of pharmaceutical grade skin care products to maintain your beautiful results. Enhancing skin care formulas include antioxidants, peptide complexes, retinol, vitamin C & E, and growth factor serums. Your aesthetician can create a regimen for you or you can stop by the Creating Beauty store and our professional team of beauty experts can recommend and demonstrate how to properly take care of and improve your skin vitality.
Quick Facts
Exfoliates dead skin cells & extracts impurities while simultaneously restoring moisture, leaving skin more supple & vibrant.
Cleanses, exfoliates, extracts, hydrates and moisturizes the skin with a soothing "paintbrush" feel.
Totally customizable treatments for any skin tone or type.
Patients can immediately return to normal activities with ultra clean, radiant skin.
It is recommended to stay out of the sun post treatment for 4 hours.