Morpheus8
What is Morpheus8?
MORPHEUS8 – Is one of the most advanced fractional radio frequency and micro-needling resurfacing treatments. It combines tightening using radio frequency while using micro pins to renew the deeper layers of the skin. This procedure helps reduce wrinkles, smooth texture and tone, and restore collagen which helps with skin laxity. This treatment will provide a youthful appearance within a short time period. This all in one treatment will also help reduce the appearance of mild to severe acne and acne scaring in just a few treatments.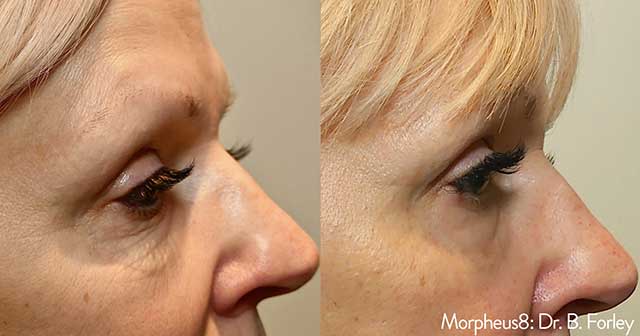 Morpheus8 is a diverse colorblind procedure that can treat all skin types. If you're looking for a treatment with minimal downtime with exceptional results that treats a variety of skin concerns Morpheus8 is for you.
Treats: Skin laxity, acne, acne scars, wrinkles, discoloration, large pores, tone and texture of skin.
How it works: Unlike regular micro-needling, Morpheus8 uses radio frequency at the same time. A small device with 24 microscopic pins is used to penetrate the epidermis of the skin. These perforations stimulate the skin's natural repair process. Once the microscopic pins are in the skin, an advanced radio frequency technique is delivered beneath the dermis in a controlled way to revitalize collagen which will tighten the area being treated.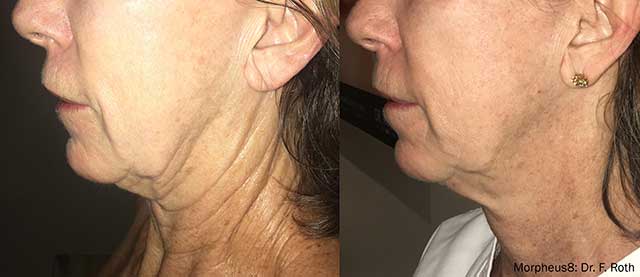 Am I a candidate? Morpheus8 is colorblind and is great for all skin types. The unique properties allow even darker tones to receive treatment.
How many treatments do I need? Significant results can be seen after one treatment. However, a series of treatments may be recommended to achieve optimal results for more severe conditions such as acne scarring. This treatment can be performed every 4 to 6 weeks or as directed by a provider.
Is this procedure painful? Patients are provided with numbing cream for comfort.
What are the side effects? Minimal – Patients can expect to be red with possible swelling for 1-3 days post treatment. Skin may also feel rough with microscopic pin point scabs that may last up to a week. Make up can be applied after 24 hours.
Results: Visible results are typically seen after two weeks. Improvements continue up to three months after treatment.