Ellacor®
The Elllacor® System with Micro-Coring™ Technology removes unwanted skin without surgery or thermal energy to treat moderate and severe wrinkles in the mid and lower face. The proprietary system precisely controls needle location and depth to remove tiny columns of skin. Afterwards, your skin will begin to heal through your body's natural process, resulting in reduced moderate and severe cheek wrinkles. Ellacor a first in excess tissue removal without heat, lasers, or surgery.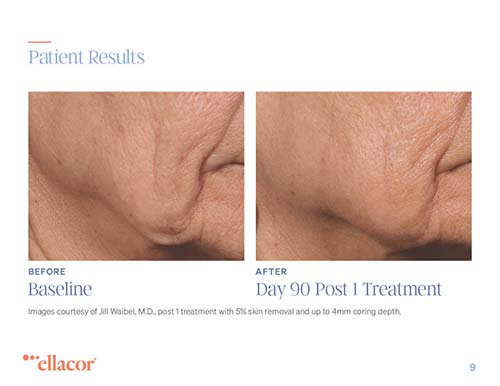 What is Ellacor?
Ellacor is one of the first devices to deliver tighter and smoother, younger-looking skin without surgery and scarring. This noninvasive treatment uses Micro-Coring, to treat skin laxity in the mid to lower face. The hallow needles remove micro cores of excess skin, without surgery or the use of thermal energy.
Benefits of Ellacor
Non- Surgical treatment without thermal heat
Scarless treatment
Reduces excess skin by 5-8% each treatment session.
Improvement of minor to moderate jowls
Improvement in the appearance of moderate to severe wrinkles
Reduction of marionette lines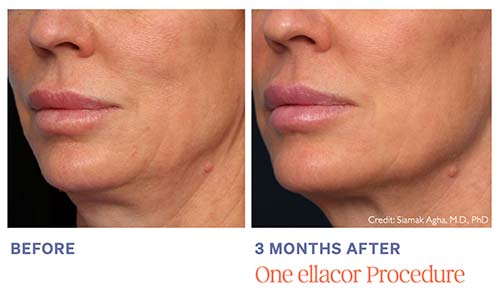 How many treatments will I need?
A minimum of 2 treatments, scheduled 6-8 weeks apart.
What is the recovery time?
While every patient heals at a different pace, we suggest a week of social downtime. There will be mild to moderate redness for 1-3 weeks. Some patients return to work after 3 days.