Mohs Micrographic Surgery
About our Mohs Center
Advanced Dermatology & Cosmetic Care is The Mohs Micrographic Surgery Center of America. It is an educational organization founded by Board Certified Dermatologist Dr. Bernard I. Raskin to enhance community awareness of this procedure. Dr. Raskin has performed Mohs Micrographic Surgery for over 25 years and is considered an expert in dermatology and cosmetic surgery.
After Mohs Micrographic Surgery has removed the cancer Dr. Raskin can then reconstruct the wound and follow up with laser procedures that reduce scarring.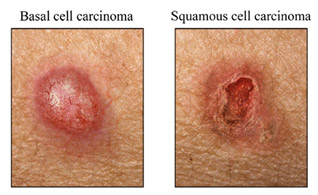 Mohs Before & After Gallery
Our center is conveniently located in the Santa Clarita Valley and is open six days a week. At our center we understand how stressful these issues can be. Our professional, highly trained staff is devoted to your comfort, care and your individual needs.
What is Mohs Micrographic Surgery?
Mohs Micrographic Surgery is a specialized, highly effective technique for skin cancer removal. The early form of this procedure was developed in the 1930's by Dr. Frederic Mohs, and refined in the 1970's into a sophisticated effective treatment.
Mohs surgery differs from other skin cancer treatments in that there is the immediate and complete microscopic examination of all removed cancerous tissue, so that every extension of the cancer can be eliminated. Other available surgical methods only examine a fraction of the removed tissue, which may result in a lower cure rate.
Due to the methodical manner in which tissue is removed and comprehensively examined, Mohs surgery is recognized as the skin cancer treatment with the highest reported cure rate.