Archive for February, 2014
For years, patients have been seeking a treatment for stretch marks.  Until now, the most effective way to treat them was with a pulsed dye laser which helped improve the red discoloration associated with "new" stretch marks.  But if a stretch mark was older and already "white" in appearance there was not much we could do to improve them.  Until now.
Studies have shown that using needle therapy has resulted in marked to excellent improvement in stretch marks that ranged from 4-17 years old!  Treatments with needle therapy promote the removal of old damaged collagen and induce the growth of new collagen beneath the epidermis.
The use of the Dermapen® uses the body's natural solution for unsightly stretch marks. New collagen growth and stimulation is more effective for reducing and fading stretch marks. The Dermapen® does this through Collagen Induction Therapy (CIT).
The Dermapen® device allows for appropriate treatment needle depth to activate the cascade of fibroblast and growth hormone steps to generate more skin, collagen and elastin for smooth and healthy colored skin. The skin of the epidermis effectively thickens and noticeable smoother and evening of stretch marks is the result.
How many treatments are needed?  Most patients see a noticeable difference in just one treatment, however 5-6 treatments may be necessary. After 5-6 treatments striae improvement is noticeable with improved texture and appearance of mature, white striae. Four weeks between treatments is necessary to allow the body's natural skin cycle to complete before another treatment should be performed
Thursday March 27th
5:30-8:30pm
$45 reservation fee – Includes a FREE mybody PROTECT AND SERVE SPF 30 UVA/UVB Protection ($65 value)
Gifted with a big tote bag and "check off" sheet, you'll "travel" to different stations tolearn about (and try) the newest in beauty and skincare treatments. Snag free gifts as you go and enjoy the complimentary wine and apps spread!
Event Includes:
A first look at new products, procedures and devices
Live demonstrations and special pricing on Coolsculpt (fat-freezing) and Thermage (skin tightening)
A Customized skin analysis and skincare regimen
Up to 20% off all non-prescription products
Attendees will enjoy deep discounts on Coolsculpt, Thermage, Voluma, Botox and Juvederm!
CALL NOW TO RESERVE YOUR SPOT, THIS EVENT ALWAYS SELLS OUT!
661.254.3686 EXT 210
Restrictions and limitations may apply to all offers. Offers expire 3/31/2014.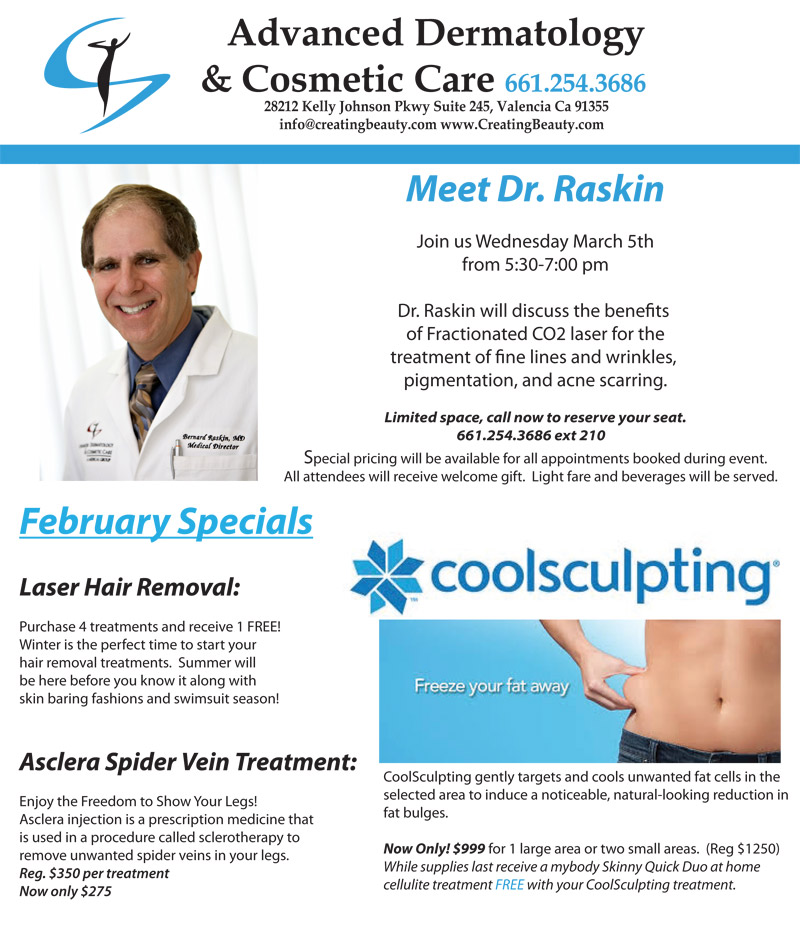 Join us Wednesday March 5th from 5:30-7:00 pm
Dr. Raskin will discuss the benefits of Fractionated CO2 laser for the treatment of fine lines and wrinkles, pigmentation, and acne scarring.
Limited space, call now to reserve your seat. 661.254.3686 ext 210.
Special pricing will be available for all appointments booked during event.
All attendees will receive welcome gift. Light fare and beverages will be served.