Ultherapy
This non-invasive treatment is great for lifting the face, neck, under the chin and eyebrows!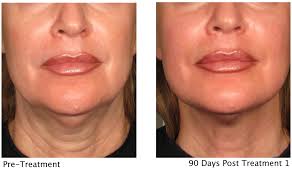 As the skin matures, collagen fibers that provide internal support become worn. Ultherapy's ultrasound energy reaches deep below the surface of your skin to initiate your body's own natural repair process. Over time, this results in the creation of new, healthy, strong collagen and a variety of positive skin changes. Responsiveness varies from patient to patient, and, occasionally, the results are "subclinical" that is, the collagen rebuilding on the inside that helps counter the effects of gravity does not have a visible effect on the outside. Some patients may benefit from more than one treatment.
TREATING THE FACE AND NECK
In the early days following face and neck treatment, patients commonly report some lifting, toning and plumping of fine lines. While this immediate "plumping effect" can be temporary, it signals that the beneficial process of new collagen generation has begun. Skin lifting on the brow, neck and under the chin is reported to continue to build over the next 2-3 months. Further improvements can even appear up to 6 months following a procedure.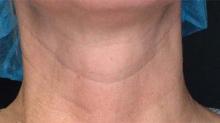 Before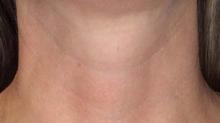 After
TREATING THE DÉCOLLETAGE
After a single décolletage treatment, the collagen building process is initiated and a smoothing of fine lines and wrinkles of the chest may be noticeable within 90 days. Improvement can also be seen at 180 days post-treatment.
Because everyone's skin is different, results will vary.