Archive for November, 2015
10am – Seminar on lasers, presented by Bernard Raskin, M.D.
10:30am– live demonstration of the Core Fractionated CO2
11am – All about skin-care, by Daniel Clary, Director of Education at MYBODY
11:30am – Live Dermapen demonstration
12pm – NEW Kybella fat reduction , by Allison Hicks, Allergan
12:30pm – Live injection demonstration of Kybella
1pm – Face and Body contouring, by Bernard Raskin, M.D.
1:30pm – Live filler demonstration
2pm – Sculptra, by Melinda Bentz, Galderma
2:30pm – Live Sculptra injection demonstration
3pm – Combination Therapies, by Bernard Raskin, M.D.
4pm -All about skin-care, by Daniel Clary, Director of Education at MYBODY
5pm – Anti aging for Men, by Shawn Abrishamy M.D.
*Live demonstrations of Ultherapy and Vanquish will be available all day.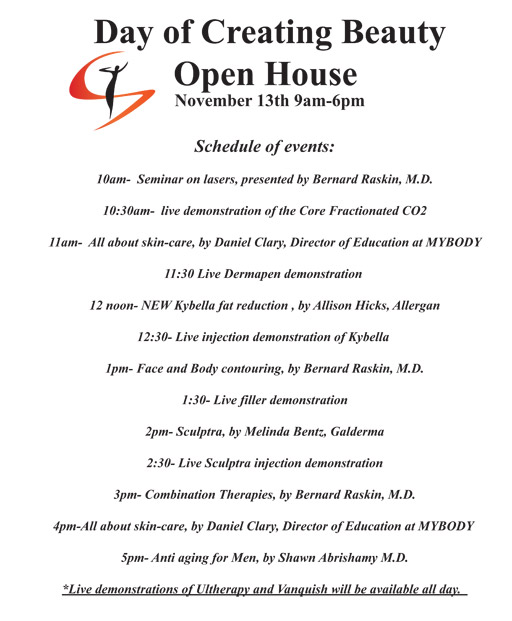 November 13th 9am-6pm
Botox® or Dysport $225 for 1st site, $150 for each additional site
Juvederm, Restylane, $450 per syringe (reg. $500)
Voluma $850 per syringe (reg. $950)
Sculptra $650 per vial (reg. $750)
Radiesse®, $550 per syringe (reg. $650)
Microdermabrasion $80, with peel or mask $100
Melanage peel $500 (save $250)
Vitalize Peel $120, Rejuvenize Peel $200, Illuminize Peel $80
DermaPen, $300 each or 3 for $850
Vbeam for redness $100 for nose, $200 whole face
IPL/Fotofacial, buy 4 get 1 FREE
Physician strength TCA peel $495
Vanquish fat reduction treatment $1950 (series of 6)
CORE Fractionated CO2 resurfacing treatment $1200 (save $300)
Kybella $475 per vial (minimum 3 vial purchase, reg. $600 per vial)
Ultherapy Skin Tightening 20% off and a free neck firming product
Laser Hair Removal, buy 4 get 1 free (same area)
15% off nonprescription products and hand held devices
Raffles, Live Demonstrations, Educational Presentations, Food and Beverages, Prizes, Massages, Skin-care recommendations, and much, much more!
No Appointments necessary, stop by or call to purchase your treatments.